I say I'm not a shopper, but my fiancé would disagree. It's not to say that I shop often, or even in the most fashionable and trendy stores, but I do come home once in a while with a bag of goodies. Last weekend I was set on visiting my mother. My sister and her husband were going and I hitched a ride asking if at some point we can stop at Marshals to look at some winter coats. I was in need of a classic black, yet fashionable, coat. And boy was I in luck!
I walked quickly through the boots section because, lets face it, what girl doesn't love shoes. I found a pair of Coach Juniper boots in white. I looked at them and smiled explaining to my sister that these would be perfect under my wedding dress (the one I still haven't come close to trying on or finding or shopping for) during the outdoor photos at my destination Breckenridge, Co wedding. She told me to try them on and if I find a pair that fits, to just buy them. She said to throw them in a closet all boxed up just waiting for next year... white, perfect, warm. They aren't as cute as the guess wedge boots I found, but these are more practical. The soles are white and they are nice and flat... much more reasonable when trying to walk into the heavy snow. What do you think? - ooo I forget - I got these for a steal of $100 which is 50% less than the MSRP!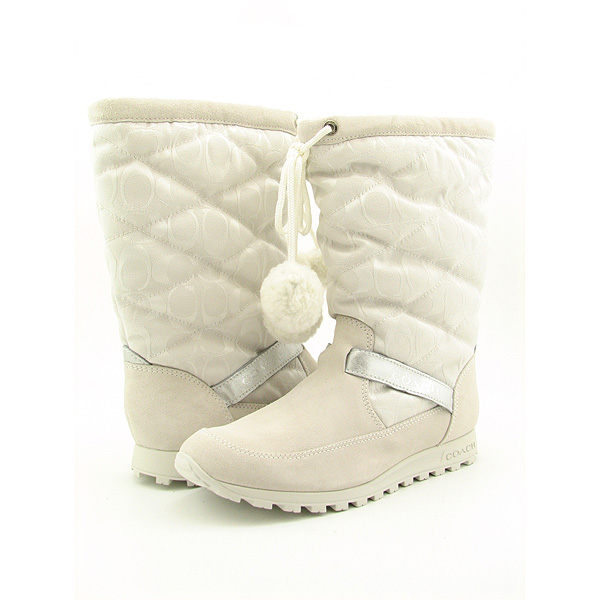 So now great purchase number two! I went into the coat section grabbing every black coat in my size that was wool, made well, a decent brand, and closed to the neck. I didn't want a traditional wool coat that left your neck exposed needing to be covered at all times in a scarf. That's when I found a Cole Haan wook and alpaca blend coat with an asymmetrical zip closure and tie belt. It looked adorable and was only $250. Also 50% off the MSRP. I have done searches online and haven't even come close to that price. I tried it on, got approval from my sister and threw it in the cart. Thoughts? I thought it was a classic style that won't be going out of style... ever.
So I made out great with those 2 luxury items at prices I could afford.
Then yesterday I stopped into a store where I bought my 1st pair of skinny jeans. Yes, I now own skinny jeans and a pair of skinny chords. Also for a steal! I love a good bargain. But now I cannot buy anything else... not till like um 2012 haha.
Happy shopping